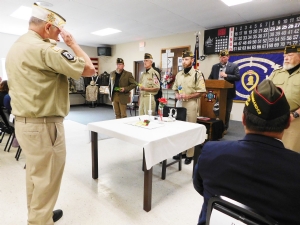 HARRISON – Veterans of Foreign Wars Post 1075 held its POW-MIA Recognition Day Friday, Sept. 16. The event began with opening remarks by Post Commander Scott Taylor, followed by a luncheon prepared for 70-plus invitees.
The program followed, beginning with the introduction of the following distinguished guests: U.S. Congressman John Moolenaar, represented by his aide Joel Johnson; VFW-Michigan Senior Vice Commander Ray Lopez; VFW-District 11 Commander Tim Artabee; Clare County Prosecuting Attorney Michelle Ambrozaitis; Clare County Sheriff John Wilson; Michigan State Police 1st Lt. Joshua Lator; Harrison City Mayor Stacy Stocking; Undersheriff Dwayne Miedzianowski; and Michigan State Police Lt. David Johnson.
Next on the agenda was the Tribute to Comrades Ceremony, with master of ceremonies Gabe Ambrozaitis describing each element. They included table placement of a laurel wreath, an evergreen sprig, and flowers representing the stripes/colors of the American Flag: Red flowers symbolizing courage and gallantry; White flowers reminding of comrades' unselfish devotion to duty; and Blue flowers symbolizing the great love military comrades have for the flag and country. The evergreen tribute was a symbol of life everlasting and the undying love for missing and imprisoned comrades. The laurel wreath symbolizing victory over death for those who have made the supreme sacrifices – a last token of affection for missing comrades who have gone to their final reward.
Taylor described the ceremonial table with its white tablecloth symbolizing a soldier's pure heart; a lemon slice and grains of salt on a plate (showing a captive's bitter fate and the tears of families waiting for loved ones to return); the empty chair for soldiers who are not here; black napkins for the sorrow of captivity; an overturned glass for the meal that will not be eaten; a white candle for peace; and red rose in a vase tied with a red ribbon for the hope that all the missing will return one day.
Taylor then thanked attendees for being present for National POW-MIA Recognition Day.
"No matter where and how we're gathering today, I am honored to join you in saluting the men and women who have served and sacrificed for our nation," he said. "Today, on POW-MIA Recognition Day, we not only honor our fallen brothers and sisters in arms, we salute the families of the missing who continue to hope and pray that their loved ones will one day return home from their wars. Today, there are more than 81,600 Americans listed as missing and unaccounted for from our nation's wars back to the beginning of World War II … a number so large it exceeds the populations of many small towns in America."
Taylor extrapolated that to the vast number of family members who continue to grieve silently every day, those for whom the conflicts have not ended.
"We cannot walk in their shoes, but we can assure them that the veterans organization of the VFW will never rest until our nation has achieved the fullest possible accounting of all its missing," he said.
Taylor's comments were followed by presentation of awards for law enforcement, the people who serve the community and from whose services that community benefits. Joel Johnson began that part of the program by thanking attendees for their presence, and remarking the day is a harrowing remembrance of those who did not come home, and for their families.
"It is a very honored opportunity that we have to remember these folks," Johnson said. "They wrote that check that said they would give all … these folks that lay down their lives, and some of them continue to live, and we don't know in what conditions." He finished that thought with the statement of how important it is that closure be provided to the families of those who are prisoners of war or missing in action.
"With that, we have people in our midst who continue to write that check, that can be cashed at any time," Johnson said. "They put their lives on the line for us every day, with our police officers, with our firefighters – and all those who continue to protect us and work on our behalf every day."
Johnson said he appreciated the VFW for putting together honors and awards for those people.
"The folks that'll get those awards are representatives and a great example of their colleagues they work with every day," he said, adding that Moolenaar had sent special Congressional recognition for those receiving awards that day.
Ambrozaitis then introduced the law enforcement and fire recognition for Officers of the Year 2022.
"Michigan State Police-Mount Pleasant Post Trooper Dana Mattice, who joined the U.S. Marine Corps after graduating high school in 2005. He deployed to Iraq as an infantryman in 2006 and again in 2007 and 2008, earning the rank of corporal. After leaving the U.S. Marine Corps, Dana worked with veterans as a certified nursing assistant. Dana then earned his associate degree in criminal justice and attended the police academy at Kirtland Community College; then serving at Beaverton and Gladwin city police departments before joining the Michigan State Police in January of 2014. Dana has served our community as a member of the Mount Pleasant State Police Post since his graduation. He additionally serves as a field training officer and a firearms instructor, and continues his service by training future troopers. Dana is married, has two children, and serves as an assistant coach for his son's hockey team. Congratulations."
Ambrozaitis continued his introductions with the Clare County Sheriff's Department honoree.
"Deputy Josh Riffe served the U.S. Army 95th Route Clearance Company from February 2013 through April 2019 as a combat engineer, then in the U.S. Army 62nd Sapper Company from April 2016 to April 2019 as a team leader. Josh has also served in Korea with the U.S. Army for a year. After getting out of the army, Josh pursued his degree in criminal justice and was then hired by the Clare County Sheriff's Department in 2019. Josh is a very dedicated father to his two children, and continues to be a dedicated law enforcement professional. Congratulations."
The event also intended to honor the firefighter of the year, but no representatives were present. Taylor said the attendant award/Congressional recognition would be held at the post to be collected by the awardee at a later date.