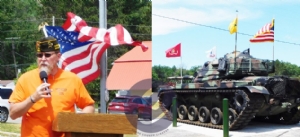 HARRISON – A rare and special ceremony was held July 2 at VFW Post 1075 – the dedication of an M60 tank. Post Commander Scott Taylor explained that the tank had been provided and entrusted to the post for respectful display, maintenance and safekeeping.
"I'm still active in the National Guard," Taylor said. "So, with that, my battalion commander, Lt. Col. Schramm, works with TACOM."
Taylor said that TACOM [U.S. Army-Tank-Automotive & Armaments Command, a Major Subordinate Command of Army Materials Command which manages the Army's ground equipment supply chain] is what is used to monitor and keep vehicles on track.
"That's how they track all the armored vehicles that get taken out of service and get used for VFW static displays and stuff, along with other entities," he said.
Essentially, Taylor let Schramm know Post 1075 was looking for a static display, and last fall Schramm informed that the tank was available, also that possession would have to be taken immediately.
"We put it together, got the membership to approve it, and it cost us over $5,000 to get it hauled up here," he said. "Fox Wrecker Service came out and donated his time – Roger's phenomenal. Then we had to put a concrete pad in [18-by-22 feet and 8 inches thick] and Scott Holley of Holley Construction came in and donated his services, so it was just the cost of concrete. He and his crew spent the day getting the concrete, poles and stuff in. We've got a phenomenal community, it's been great."
Taylor explained that because the tank is still the property of the government, the post has to do annual reporting on its condition – and now that the tank has been positioned, he has to provide GPS coordinates to prove it is in its final place, which will be followed by an official TACOM inspection.
"This particular tank was assigned to the 1246, which was a Michigan-based unit, a tank unit or heavy infantry, that's now the 125," he said. "It was actually assigned to a Michigan Guard unit, went out of service in 1997."
Taylor went on to note the many donations received for the project, including General Jim's donation of water cans and the manual for the tank.
"The community's been phenomenal; we've had so many donations," he said.
When asked how many work hours had gone into procuring, preparing and installing the tank, Taylor said he couldn't even begin to guess. He, personally had put in more than 100 hours and knew others had done the same. Taylor sited Joe Pawlowski from Devildog Ink & Paint LLC who had done the artwork, including painting the tank "top to bottom" to get it touched up and ready for that day. That work included air brushing the gun barrel with riffling on the end so that it looks like an active barrel. Pawlowski [a veterans tattoo artist who also is highly regarded for his mural work inside the Veterans Freedom Park building] was also in the process of painting the vertical bollard poles which protect the tank from potential vehicle damage.
"Joe's one of the members here as well, and the members have all been here donating time, and cleanup," Taylor said. "There've been a lot of days when we're here at 6 or 7 o'clock in the morning for meetings trying to plan things out," he said. "Then we're here until 10 or 11 o'clock that night doing cleanup and maintenance. We spent a lot of time just power washing, sanding and grinding on the tank to get it prepped for painting."
Taylor also shared that his sons are both welders, and that they had helped with a lot of the welds to get the back hatch and boxes sealed up. That leaves just the main hatch which allows for some final maintenance work, and then the final hatch will be welded closed as well. This protects the post from potential public injury liability, as well as thwarting interior vandalism.
Once all that welding is complete, maintenance will mean maintaining the outward appearance to ensure it signifies what it is supposed to, and that it represents the U.S. Army.
"That's the big thing," he said. "Keeping it true to what it's supposed to be, and it's a representation of service."
Taylor said that finalizing work will include lettering and a plaque mounted on the back of the tank to get it back to the original, and including VFW Post 1075.
The tank itself sports two Guidon poles; one flies a ceremonial American Flag with gold fringe which was with Taylor in Afghanistan, and the other the yellow U.S. Military Armor Tank Guidon Flag.
"A lot of history here, pretty exciting," he said. "Great turnout here today, it's nice to see the public represented."
At the 1 p.m. dedication ceremony, Taylor reiterated his comments regarding the vast amount of labor and commitment it took to get to that day. He went on to describe the M60 tank's specifications, i.e., it carried up to 63 rounds of ammunition onboard; had a 105 mm main gun; machine guns; 12-cylinder, air-cooled Detroit diesel engine, providing 750 brake horse power at 2,400 rpm; maximum cross country speed of 12 mph, up to 30 mph on roads, with a distance of 312 miles. Taylor noted that more than 15,000 M60 tanks were built, with many still in service around the world.
Taylor's summary remarks to the crowd follow:
"We have long desired to return to pre-COVID levels of engagement with the community, and this event is a meeting of that goal. We look forward to hosting this event every year to highlight the many cars, bikes and trucks that are a part of our nation's history. We salute the efforts of each owner to maintain their vehicles and display them here today. So, thank you for that.
Thanks to all who donated their time, know how, materials, know-how, gifts and money to our post.
In closing, I, Commander Scott Taylor-VFW Post 1075, hereby solemnly dedicate this U.S. Army battle tank to all veterans, past, current and in the future, and the citizens of Michigan, and as a symbol of our military preserving our nation's freedom and independence. God bless America, and thank you."